At Decibels Audiology, our purpose is to better the lives of the people we employ and the customers we serve in order to build a stronger community.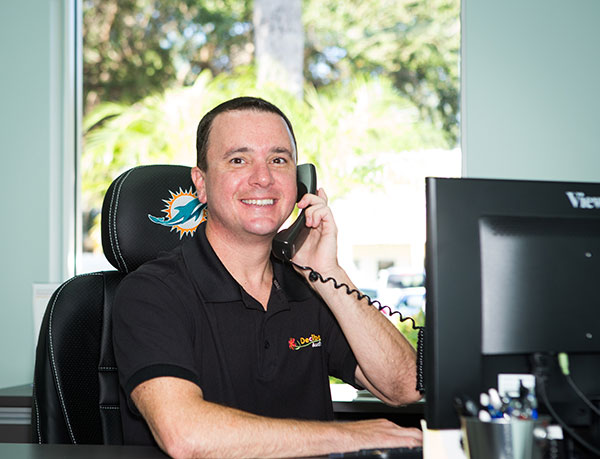 That doesn't sound like your average hearing aid office, does it? Probably not. So how did we find our purpose and follow it to tremendous business growth?
This story is best told if you first understand our original company "value statement" – which hung on the walls of our office for years. It read:
"We are a family-owned hearing care center that is Audiology- based, works with a variety of manufacturers and provides superior customer service."
Now…. all of that is true. And we're very proud of those things. But did anyone care? Not really. Our business was growing by double digits every year, but there wasn't one thing we could put our finger on and say, "That's the magic."
Then, in 2013, we sent a letter to all of our patients. It was a short note announcing the promotion of our long-time front desk attendant, Andy Schaps. Before coming to Decibels Audiology, Andy had worked the night shift at an upscale Naples hotel for 11 years. The letter described how Andy, late at night, after his kids went to bed, had been studying for his degree from Nova Southeastern University as an Audiology Assistant. It described how his fun-loving personality and instant rapport with all of our patients made him a natural fit to be promoted to this Audiology Assistant role, and how we were proud to announce that he had graduated and would be promoted immediately! The phones exploded with calls. Patients sent cards, flowers and gifts. Many came by on their way to Publix, or after they had been out to lunch. "I'm just here to shake Andy's hand," they'd say. "I just want to tell him how proud I am of him." Our sales soared. People told their friends – in a fan-frenzied manner about Decibels Audiology.
"There's just something about that place!" they would say. "And make sure to say hi to Andy when you leave – we love that guy!" It turns out that we don't sell hearing aids, we sell our people. We sell a group of hard-working, educated, committed, passionate people who are going to work harder to make you happy than anyone in any medical office ever has. We're obsessed with finding happy, loving, fabulous customers and helping them to hear better and, therefore, live better lives. And in the meantime, we're building a family. We're providing an opportunity for our people to better provide for their families, and ultimately, to better serve you and your families. We're strengthening a community. And we're having a ball doing it, one Andy and two ears at a time 🙂
Southwest Florida's #1 Hearing Center for Over 10 Years
30 day NO RISK trial period
Flexible Financing Options available. We work with Care Credit and Wells Fargo
Complimentary in-depth hearing exams
Complimentary batteries for the life of the hearing device
Complimentary office visits for the life of the hearing device