Falling in Love with Hearing
In a noisy world full of bad cell phone connections, television programs that are difficult to understand, and people who never seem to speak clearly, it can seem almost impossible to understand what is being said.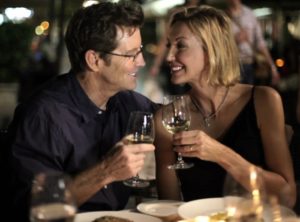 John R of Cincinnati, Ohio says "It had always seemed to me that I heard just fine. I heard things that I didn't need to hear all the time. But the things I wanted to hear weren't clear enough. I just wanted to make everything clearer without some giant hearing aid in my ear."
As luck would have it, John, CEO of an Ohio-based construction company, took a younger woman that he was dating to a charity event two years ago. John thought the speaker was impossible to hear, but his date seemed to catch every word. "She was laughing along with the speaker's jokes and having a great time. I was not."
What happened next surprised John. At the end of the lunch, his date removed a tiny hearing device from behind her ear. It was connected to the sound system and had been delivering the speakers' voice right to her ear.
"I was amazed. I didn't even notice that she's been wearing a hearing device and then I find out that it had been streaming the sound from the room right to her ear. I couldn't stop asking her about it."
---
The questions John asked echoed many of the questions that Audiologists hear all the time. "The answers delight people," says Dr. Sarah Thomas, Audiologist at Decibels Audiology.
"Yes, the hearing devices are small and unnoticeable. Yes, you can wear them when you need them and put them away when you don't. Yes, they can work with your TV, iPad, iPhone, and your church sound system. Yes, many of them are rechargeable. And YES they are made for young, active, vibrant lifestyles."
High end hearing devices that do all this and more are considered "top of the line" and can cost as much as $3000 each. Dr. Thomas explains "This kind of sophistication isn't for everyone. It's really aimed at the person who wants to hear better in noisy restaurants, who attends a lot of luncheons and events, who finds themselves in a lot of interesting situations where they need to hear more clearly. If you want wireless, automatic, extremely sophisticated sound processing and options – the cost will be higher than basic non wireless, manual hearing aids."
Looking back, John says "I was never really worried about the price… I was just worried about how it was going to make me feel to wear a hearing aid. But once I saw one in action that day at the luncheon, I started to get excited about the technology. My date recommended Decibels Audiology and two days later I picked up my own hearing device. I love it. In fact, last month I ran a half marathon with music streaming from my iPhone to my hearing device."
Oh, and in case you're wondering… John was also smart enough to marry his date that day. They currently reside in Pelican Bay with their 2 dogs and 4 hearing aids.
Southwest Florida's #1 Hearing Center for Over 10 Years
30 day NO RISK trial period
Flexible Financing Options available. We work with Care Credit and Wells Fargo
Complimentary in-depth hearing exams
Complimentary batteries for the life of the hearing device
Complimentary office visits for the life of the hearing device
Professional Affiliations