Hearing Aid Repairs
Can my hearing aids be fixed?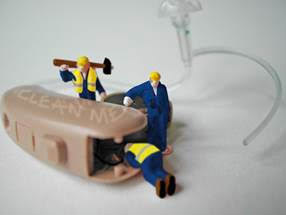 Did you buy your hearing aids up North or from a different office? Has your hearing aid stopped working? Does it whistle? Did the battery door break off or does your hearing aid sound "muffled" or "dull?" Worry not, we can fix almost any brand of hearing aid! Repair options vary depending on the age of the device and the amount of information the original manufacturer has on file. Repair prices are based on the warranty status of the device. Some hearing devices cost more to fix than they're worth, but most can be salvaged with a little time and additional investment. Broken hearing aids that are not cost-effective to repair can be upgraded or donated.
$99 Hearing Aid Repair Consultations
Hearing Aid Repairs in Naples, Florida
During your consultation, you will receive the following services from one of our fantastic Audiologists:
Otoscopic examination of your ears—it may just be wax!
In-depth hearing examination.
Clean and check of your current hearing aids.
Review of the current fit and function of your hearing aids.
Review of your current manufacturer warranty status.
Additional services such a hearing aid repairs, warranty extensions, hearing aid re-fitting and re-programming, and technology upgrades or trade-ins may be available for an additional fee, based on the age of your current hearing aids.
Southwest Florida's #1 Hearing Center for Over 10 Years
30 day NO RISK trial period
Flexible Financing Options available. We work with Care Credit and Wells Fargo
Complimentary in-depth hearing exams
Complimentary batteries for the life of the hearing device
Complimentary office visits for the life of the hearing device
Professional Affiliations