We're thrilled to announce that the most fun and fabulous audiology office in Southwest Florida is expanding to Bonita Springs! Yay! Our distinguished team at Decibels Audiology and Hearing Aid Center plans to open a brand new office a few miles north in the beginning of October of this year.
A New Audiology Office: Under Construction
We're so excited for our new audiology office. We're going to be able to offer a fabulous patient experience, an array of hearing aid manufacturers, and top notch service for our community. As such, we are in the process of completely renovating our new space on Bonita Beach Road. This — as you might expect — takes time, vision, and patience. And, in perfect HGTV form, we plan to unveil a side-by-side, before and after photo experience. For now, though, enjoy some before photos of our new audiology office.
And now, here are some in progress pictures. The new Decibels Audiology and Hearing Aid Center Bonita Springs office promises to be a positive, inviting, warm atmosphere. But, for now, it's filled with dust, drywall, shop vacs, disintegrating carpets, and, of course, muscular construction workers.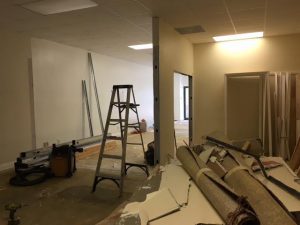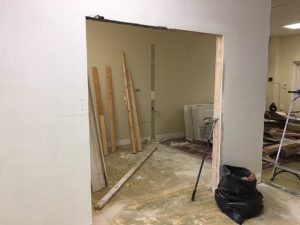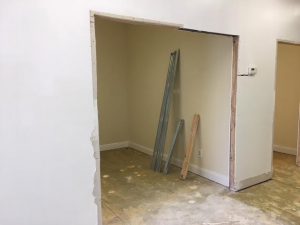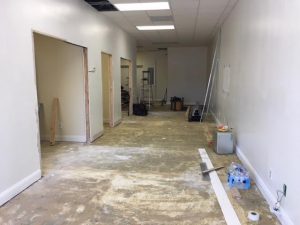 A Word From Our Fabulous CEO, April Royan, M.A. CCC-A
April Royan, owner and CEO of Decibels Audiology, expresses her joy at the expansion to Bonita Springs. "The Bonita Springs and Estero areas are growing like crazy! We're thrilled to be a part of that expansion, and we're so excited to be able to offer exceptional patient care and service in those areas of Southwest Florida." She goes on to pontificate on her love of all things Florida: "Yes, this area represents the best life has to offer: white sandy beaches, award winning golf courses, world class fishing and boating, and attractive communities in which to live and recreate. Our desire, though, is to make Bonita Springs and the surrounding areas even MORE fabulous by offering exceptional hearing health care in this community."
And, whenever asked about what makes Decibels Audiology so unique, April answers without skipping a beat: "We have a fabulous team of excellent and completely lovely audiologists and staff members. They truly care about their patients' best interests and meeting their unique needs. Each one of us gets excited about helping patients live the lifestyle of their dreams through providing outstanding hearing healthcare."
Call Us Today!
Do you live in Bonita Springs, Estero or South Fort Myers? Interested in booking an appointment at the leading audiology office in Southwest Florida? Give us a call today! We would love to get to know you and tell you more about our brand new office!